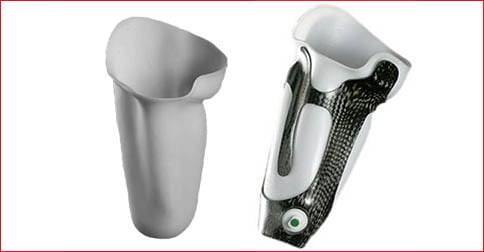 A prosthesis helps restore the function and appearance of your missing limb. At BioTech Limb and Brace, we realize the importance of each part of a prosthetic device. From the control system at its foundation to the aesthetically pleasing finish, your custom prosthesis should help you recognize new possibilities! Learn more about the anatomy of a prosthetic device.
Lightweight Prosthetic Leg Device
The fabrication of a lightweight prosthetic leg device is an intricate process that requires a high degree of skill and technology. The materials that make up your prosthetic device must be durable enough to balance your body weight and the flexibility of your movement. At BioTech, each prosthetic device is custom-built for each patient. Our end goal is to make sure your limb fits perfectly and provides you with a new level of convenience.
The Control System
What once started as a wooden extension of the leg has now developed into a more sophisticated device that mirrors a natural human limb in capability, flexibility, and appearance. Prosthetic limbs are more complex than they may seem. At the core of any lightweight prosthetic leg is the control system, some of which have smartphone integration. The lightest limbs are made with carbon technology.
BioTech Comfort Socket
Attached to your residual limb is your socket, which ensures comfort and flexibility. The ideal comfort socket is transfemorally designed with the wearer in mind. Because the socket is the connection point between your residual limb and your prosthetic device, it is arguably the most important part of your device.
Trust the experts at BioTech Limb and Brace in Birmingham, Alabama!
BioTech Limb and Brace was founded in Birmingham over fifteen years ago. Our personal, caring, and passionate team remains focused on our patients, whose comfort and success is our first priority. Learn more about our services and the products we offer at BioTech. Contact our experts today!