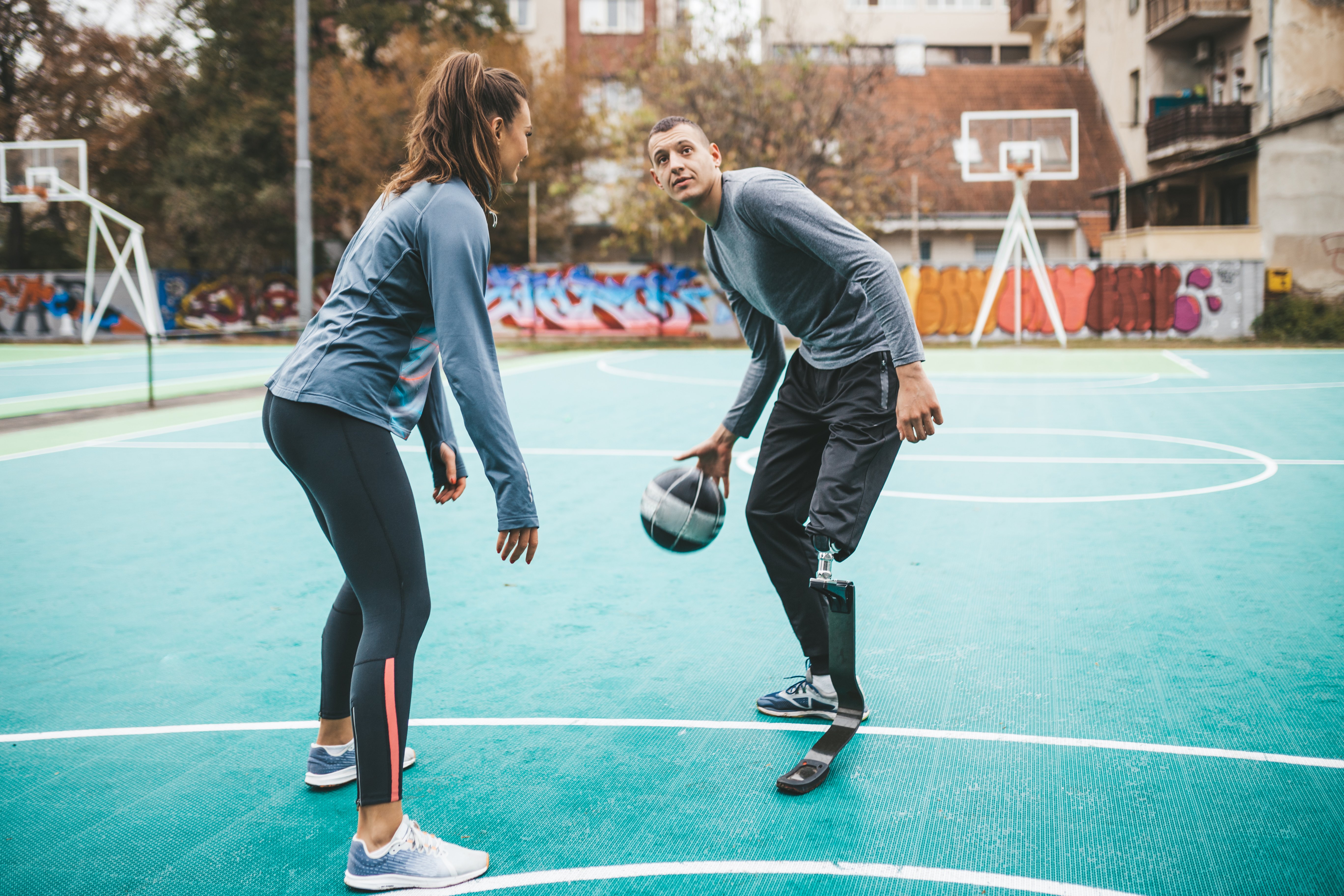 A new year is a great time for firsts, picking up old habits, trying new hobbies, or if you're athletic, a new sport. Not every sport requires you to invest in a specialized prosthesis, as some are designed to handle rigorous activity. However, when your daily prosthetic device can't deliver that extra support, you risk damaging your prosthetic. Various companies offer different variations for people looking for a prosthetic for certain activities.
Read on to learn about the options available for you, so you can get in the game, worry-free.
Prosthetics for Runners
Running blades were first pioneered by American inventor Van Phillips in the 70s and were one of the first prosthetic designs developed for sports. This invention paved the way for mobility that enabled amputees to live more active lifestyles. These blades are constructed from 80 layers of carbon fiber and replicate the natural stance of running. Not exclusively designed for distance runners, running blades are a great option for basketball and baseball players as well.
Prosthetics for Swimmers
Prosthetic legs are a great option if you want to swim, water ski, or just have fun with your kids in the pool—but there are a few things you should consider before using them. Though many modern prosthetics are considered safe for water, including those made with microprocessor technology, they can still be susceptible to water damage. If you're looking for a low-budget option, consider buying a waterproof prosthetic protector for your current prosthetic.
Also, there are specialized prosthetic attachments like a flipper foot that are available if you really want to glide in the water. If you're an upper limb amputee, you can purchase a fin attachment.
Prosthetics for Climbers
A climber and his desire to continue doing what he loved created the earliest climbing prosthetics. After losing both of his legs below the knee in a climbing accident, Hugh Herr was determined to scale mountains once again. His earliest designs featured small feet with spiked tips that allowed Herr to get a foothold on ledges.
Though a prosthesis makes climbing easier, many amputee climbers prefer to climb without one at all! Upper limb amputees can also benefit from a hook attachment for their prosthetic device which allows for gripping small ledges and corners.
Prosthetics for Kayakers
Upper limb attachments are available for those looking to venture out on the water, whether it's casual canoeing on the lake, or exhilarating whitewater rapids. Prosthetic hooks, clips, and spatula devices are available to help steady the paddle and effortlessly glide you through the water.
Prosthetics for Skiers and Snowboarders
Many companies offer prostheses specialized for downhill skiing and snowboarding. Since wakeboarding and waterskiing use the same repetitive motions, they can be used for those activities as well. The snowboard bindings are designed to fit feet securely and properly; below-knee amputees can use a foot attachment to attach to their boards.
Prosthetics for Golfers
Although many one-armed golfers learn to play the sport without a prosthetic, there are attachments available for those who need them. Attachments include a left and right hand design that features a metal tube that slips over the golf club's shaft for easy gripping.
Prosthetics for Basketball Players
Basketball is a very hands-on sport, and specialized prosthetics are designed with the shape and the size of the ball in mind. These hands are also designed to be angled to suit individual needs.
Prosthetics for Volleyball Players
Hand attachments made of flexible rubber are available for volleyball players so they can play with ease. These hand attachments are designed to allow players to competitively play, by mimicking various hand positions used during a game of volleyball.
Prosthetics for Baseball Players
There are pitching prosthetic hand attachments available in various sizes for hardball and softball to cup the ball for a precise throw. Batting prosthetics also have a clip attached that allows the user to use a precise grasp for a proper swing.
Prosthetics for Hockey Players
Prosthetic hand attachments are available for both ice and floor hockey players. For upper limb amputees, there is a device that slips over the first top half of the hockey stick, allowing for more flexibility similar to that of a human wrist. Plastic grips are also available for proper mobility and handling.
Lower limb amputees can take advantage of a foot attachment that fits inside a hockey skate.
It's almost a new year—time to start off on the right footing! If you're looking to start a new sport and need a device that will suit your needs the most, reach out to one of our specialists and we'll help you find an activity-specific prosthesis.
Contact us today for more information.