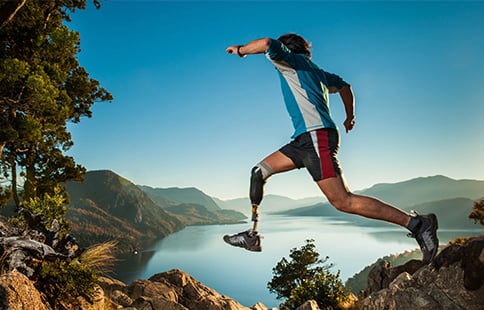 Did you know that over 500 Americans lose a limb every day? It's true! There are nearly 2 million people living with limb loss in the United States. With numbers like that, it's obvious that if you've lost a limb and you're looking for new amputee information, you're certainly not alone! Ready to find out a few of the ways this month is special for people with limb loss? Let's take a look!
"Show Your Mettle" Day
The Amputee Coalition's Show Your Mettle Day is scheduled for Saturday, April 23. The hope is that people with limb loss will wear and show their devices with pride on this day. The concept behind it all is to show your "mettle" (your capacity to deal with challenges and face a difficult situation with determination and resiliency) by showing your "metal" (your prosthesis or wheelchair).
Additionally, all who feel comfortable doing so are encouraged to post a photo of themselves wearing their device or using their wheelchair with the hashtag #ShowYourMettle throughout the month of April. These photos should be posted on The Amputee Coalition's social media platforms – Facebook (Facebook.com/AmputeeUSA), Instagram (Instagram.com/AmputeeCoalition), and Twitter (Twitter.com/AmputeesUSA).
Other Things Happening This Month
Aside from specific events like the above, April is a special month for people with limb loss because of the focus on things like the following:
Education for the limb loss community, including new amputee information

A platform for those with limb loss to speak publicly about issues they face

Prevention information for people who are at risk for limb loss

Support for individuals with limb loss and their caregivers
Additionally, there are numerous local events like walk/run/roll 5Ks, fundraising festivals, and other exciting things happening all around the country. Check with your town to see what kind of opportunities you'll have to celebrate the limb loss community this month!
BioTech Limb and Brace Has New Amputee Information for You!
Limb Loss Awareness Month is an amazing time for many reasons, but we like to celebrate our patients every day of the year! If you're new to limb loss, contact us today for expert information and passionate professionalism. We are here to help you every step of the way!